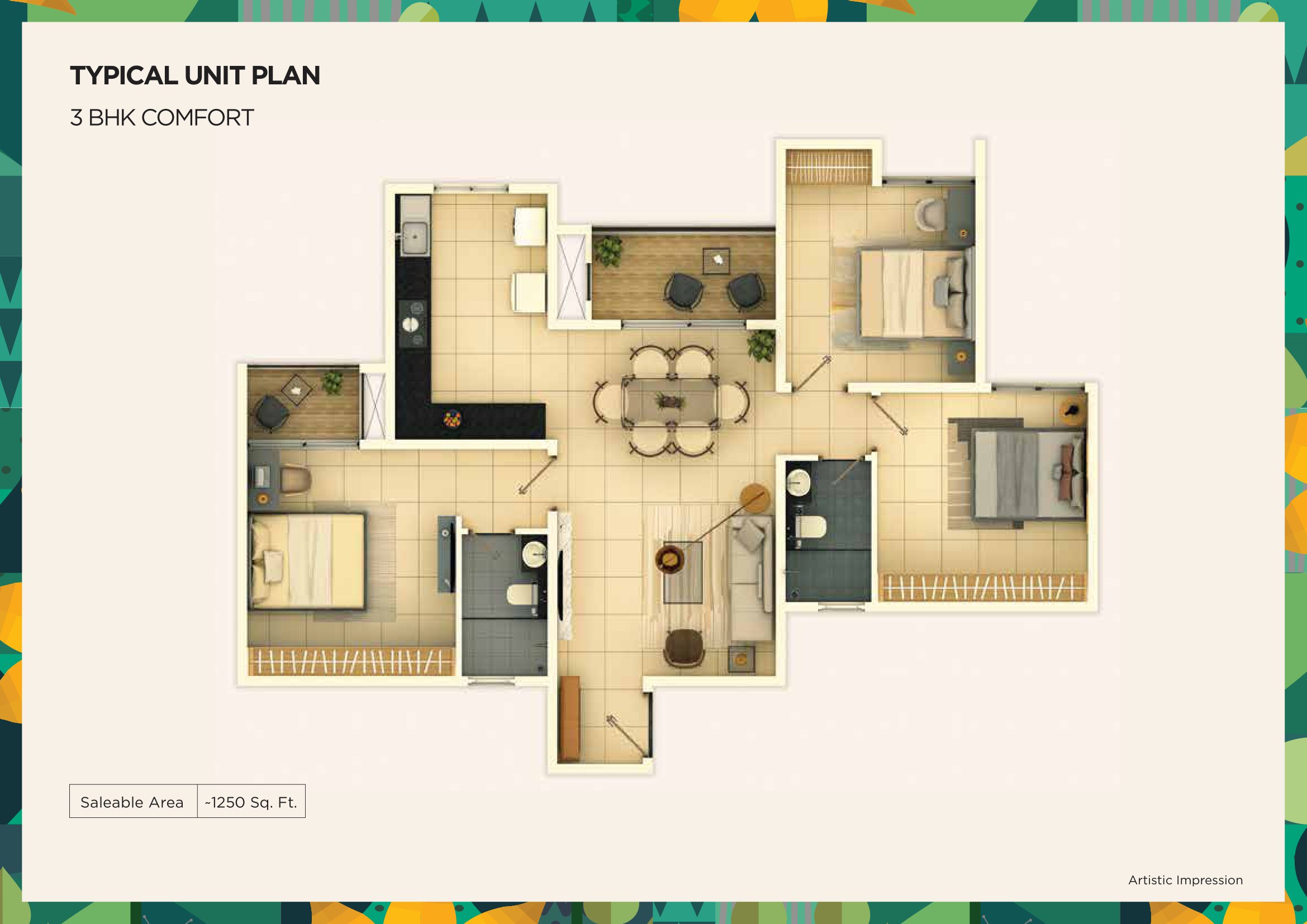 A 3bhk apartment is a housing unit with three bedrooms, a kitchen, and a hall. These units have become popular recently, especially in all metropolitan cities. Provident Ecopolitan is a new project in KIADB Aerospace Park, Bagalur Road, Bangalore. It is over 11.25 acres and offers 1262 1,2 and 3bhk homes with world-class features. It includes 9 towers with 19 to 22 floors with 616 to 1390 sq ft houses.
The project has a nature theme and a vigilant blend of viable and plush features. It has an 80% open area with lush green and includes a high-street retail hub built on 1.6 acres. The floor plan displays the room position on each floor. The project offers flats in different sizes and positions within the campus, giving buyers some options.
Reason to Invest in 3bhk Floor Plan
Purchasing a house is a dream for every person. The most common dilemma for every investor is whether to invest in a 2 or 3bhk project. Here are a few reasons to consider the Provident Ecopolitan 3Bhk Apartment Floor Plan to invest in:
One of the prime reasons to consider 3bhk homes is their ample space. It has adequate space for a family of 6 members.
It makes living less havoc and is more affordable.
The cost difference between a 2 and 3bhk home is not too steep.
From a future stance, investing in a 3bhk home is a perfect choice.
The paperwork for any house, regardless of size, will take almost the same time. But, when you later try to add another room, you may have to go through many hassles.
Besides more space, these 3bhk Floor Plan offers high privacy.
An extra room can serve many other purposes.
3 BHK Floor Plan
Provident Ecopolitan 3 BHK Apartment Floor Plan has ample living spaces with carpet sizes 1281 to 1427 sq ft. These flats are perfect for large, joint, and extended families. Each unit has a living room, a kitchen, a balcony, bathrooms, and three bedrooms. Its designs offer enough space and privacy for its Dwellers. The floor plan displays a variety of flat sizes, allowing buyers to choose units to their needs.
The three-bedroom flats come in sizes ranging from 1281 to 1289, and 1303 sq ft for Comfort flats. The Grand Flats carpet size ranges from 1416 to 1427 sq ft. All flats enable ample natural light and fresh air with modern interiors and exterior design. It blends the latest technologies for a plush and ideal living.
Security is the top priority here; the township includes high measures ensuring safety and privacy. Each unit has adequate plug points in all rooms; the flooring is the best quality. The pricing of each flat depends on the floor plan and the location within the project.
It is in a prime area with excellent connectivity to the city's various amenities. It includes social structures like schools, colleges, and shopping areas. The project has all the social features nearby and has lavish amenities, making it an ideal option for buyers.
Investing in this prime location offers many benefits, including a comfortable, stylish, and posh life with increased project rates in the future. The floor plan showcases the detailed measurements of each flat, including the size of each room, helping buyers to decide.
Provident Ecopolitan offers a quality living unit with spacious, well-designed flats, luxurious amenities, and a prime location.