The Provident Ecopolitan Amenities is a list of exquisite features for a harmonious lifestyle. The project has many features to offer its buyers a modern life with more than 60% of open space. Amenities are essential for every project, and now people are buying flats based on the project's amenities.
Experience upscale living with top-notch amenities and breathtaking views. Schedule your visit now. Discover luxurious 1/2/3/ BHK apartments inside Aerospace Park, Bangalore.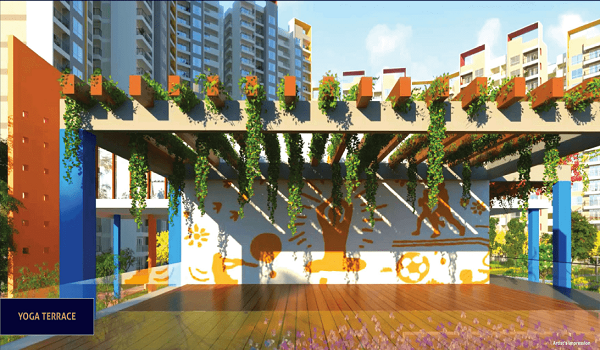 The project has a range of features for people of all ages, which will attract all buyers. The project has safety, sports, and leisure features, making many buyers book a flat. Now people prefer flats to individual houses as many big flats have a range of modern features. They offer a quality life to the people and a better relaxed time for them.
Security is very important in big cities, and all prefer living in a gated community with many safety features. Provident Ecopolitan Amenities includes safety features to offer its people a safe and relaxed living. The project has all the modern safety features like CCTV, video phone, and full security to provide a good safe environment for everyone.
Full monitoring is there, and entry of all persons and vehicles inside the community gets noted. The flat and the features will give the people a good community living. The project has a lot of fun amenities like
A library,
AV room,
Indoor games,
TRX,
Billiards, and
TT room to spend relaxed time with their neighbors.
The project has many sports amenities, including
A badminton court,
mini soccer field,
skating rink,
cricket practice net, etc., to have a good time.
It also has many fitness activities like a jogging track, gym, aerobics/yoga, etc to keep people fit. People can start their day with a range of features in the project. They can walk in the green area or go to the gym for exercise and have a good start. They can have a good time with their neighbors during the day with the clubhouse activities with a gaming room, jamming room, and squash court.
The green surroundings make it a peaceful area, and all the features are conveniently located on the project. They are accessible to everyone and can have a luxury lifestyle here. The features here will give a higher quality of life, and the project has many best features. These help to build strong and good relationships among people. There are many venues for fun along with sports and games facilities.
The project also has a range of amenities to have a better weekend time. People can prefer to spend their time relaxing here instead of traveling anywhere. Provident Ecopolitan Amenities also has separate activities for kids, including a kids' play area, a kids' pool, etc., to keep them engaged. It has features for people of all ages for a modern lifestyle in the city.
The grounds have a lot of greenery with a bird-watching deck and provide informal seating. There are forest areas with elevated pathways, and these will attract people to enjoy the peaceful surroundings. The project's lawn with informal seating and seating gallery is very pleasing.
The project has a spacious parking area for all the buyers. The project also has a big clubhouse with various activities to keep all the buyers relaxed. It also has a big multipurpose hall for parties and other gatherings. The project has a big playground and picnicking mounds with hammocks where people can connect with their neighbors and make friends.
The project also has a lot of open spaces with an outdoor gym. It has an amphitheater with a stage and fun-filled features so everyone can stay active and happy. Everyone here, from kids to senior citizens, can have a special place in their hearts. Every person can stay active, connected, and engaged to form one happy community.
Provident Ecopolitan Amenities will be among the best in the city as these get built with the greatest care. Modern techniques ensure that these homes are strong and much more durable. The features will be magnificent structures, and all the units will have a view of the surroundings. The project goes above everything to provide a top-notch lifestyle. The features are of the best quality that a modern buyer could desire.
A team will maintain all these features, and buyers will have no worries. They can enjoy all the features here in the city's prime area. They can have a pleasant and calm environment in the busy city with the farmer;'s flea market. The project has the modern technology to be eco- friendly and protect the environment. It has many green features, and there are techniques for saving water. The project has services for the collection of rainwater and to use it. These activities help to increase the groundwater in the project. The project has features for better sewage disposal with a low impact on the Earth.
There are many options for fun here, and the flats in the project will be among the most luxurious places in the city. All flats are in beautiful settings with many high-quality components. The developer tries to meet all the demands of the people of the project and offers a comfortable lifestyle. It will provide the city's best conditions, and owning a flat here is a matter of deep pride.
Faqs
1. What amenities are there in this project?
The project has a range of amenities to keep people of all ages engaged. It has security amenities, including CCTV and full security, to offer a safe area for the people. It has fitness features that include a gym and a walking track to keep people healthy. It has sports activities to keep people engaged in their free time.
2. Does the project have an open area?
The project has 60 percent of the open area, a garden, a park, a kids' play area, and seating places to relax.
3. Does the project have a parking area for all the buyers?
The project has a big parking space for all the buyers with full security and CCTV monitoring.
4. Does the project have big spaces for parties?
The project has a big multipurpose hall to hold parties, gatherings, or other events.