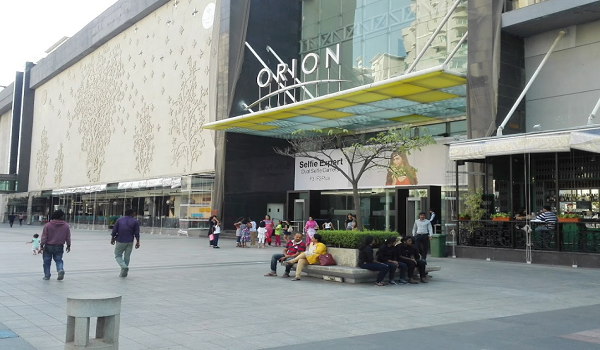 Introduction
Orion Mall Bangalore is a famous shopping mall located in the city of Bangalore, India. It is one of Bangalore's largest and most luxurious malls, offering various shopping, dining, and entertainment options. The mall is over 1.1 million square feet and has over 150 stores, including famous international and national brands such as
Zara
H&M
Forever 21
Adidas
Nike
Orion Mall has something for everyone, from clothing and accessories to electronics and home decor.
Apart from shopping, the mall also offers a variety of dining options, ranging from fast food to fine dining. Visitors can choose from various cuisines, such as
Indian
Chinese
Italian
Continental
The food court on the mall's top floor offers a great view of the city and is a popular spot for visitors to relax and enjoy a meal. Several cafes and restaurants are located within the mall where visitors can enjoy a meal or coffee.
Orion Mall is a shopping destination and a popular entertainment hub. It has a multiplex cinema with seven screens that showcase the latest movies. The mall also has a gaming zone where visitors can enjoy various games and activities, including
bowling
laser tag
arcade games
The mall is well-designed and maintained, with large corridors and well-lit stores. The mall has several seating areas where visitors can take a break and rest their feet while enjoying the ambiance of the mall. The mall also has suitable parking spaces for cars and two-wheelers.
Orion Mall has become a popular destination for tourists and locals alike. It is conveniently located in the city's heart, close to several major landmarks such as the Bangalore Palace and Cubbon Park. The mall is easily accessible by public transport, with several buses and metro stations nearby.
Orion Mall Fun League is a sports and entertainment event organized by Orion Mall in Bangalore, India. The event is designed to promote a spirit of sportsmanship and healthy competition among people. It is open to people of all ages and skill levels. The Fun League features a variety of sports activities, such as
cricket
football
basketball
badminton
table tennis
The event is usually held over several weeks and includes competitive and non-competitive matches. The matches are played on specially designed courts and pitches within the mall premises.
In conclusion, Orion Mall Bangalore is a must-visit destination for anyone looking for a shopping, dining, and entertainment experience. With its luxurious ambiance, a wide range of stores, and entertainment options, the mall is the perfect place to spend a day with friends and family.
FAQ
Orion Mall stands 4th on the list, followed by phoenix mall at the first position.
Orion Mall is a shopping mall at Brigade Gateway Enclave in Bangalore, Karnataka, India. Brigade Group develops it. It is the main famous Orion Mall.
Brigade Groups developed the mall. GITHA SHANKAR, VISHAL KALYAN SUBHRAI MIRCHANDANI, NIRUPA SHANKAR, and MYSORE RAMACHANDRASETTY JAISHANKAR own it.
Entry tickets are priced at Rs 99 to participate and enjoy all the games.
The fun and entertainment are open to all youngsters below the age of 16, so it's time to come on for a whale of a time. An entry arch with a jungle-themed set-up of animals and greenery will welcome children and their families.
If the child completes all the games, they win a GRAND PRIZE.
Provident Housing prelaunch apartment is Provident Ecopoliten.