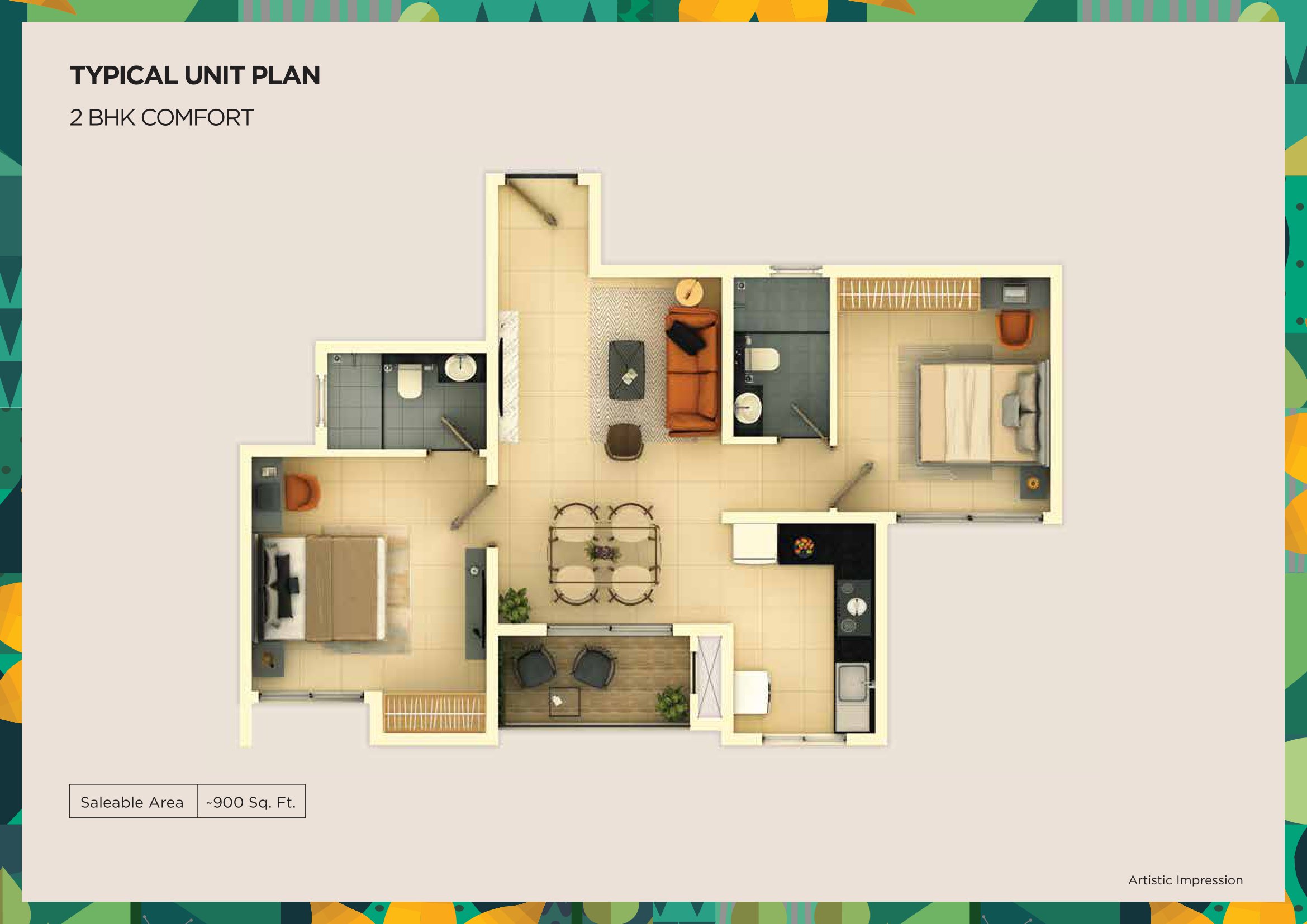 BHK is an acronym for Bedroom, Hall, and Kitchen, which indicates the number of bedrooms, halls, and kitchens in an apartment. For example, a 2bhk living unit will have two bedrooms, one hall, and one kitchen. This term originated in India and is now used in many other countries.
Most new home buyers usually focus on factors like location, budget, and builder when choosing their dream home, but they often overlook the size of the home. However, the layout, size, and bhk are essential to consider, especially when you buy or invest in a housing project. With easy access to home loans, most people now opt to buy a home at a younger age.
However, deciding whether to purchase a 1,2 or 3 bhk home can be challenging. Provident Ecopolitan 2 BHK Apartment Floor Plan homes are better for families and married individuals. Here are some reasons why:
They are more affordable than 3bhk flats. It is more spacious and practical in the long run. It is also ideal for mid-income families with smaller family sizes. Compared to three or 4bhk homes, it is easier to maintain.
It has a better return value and high resale value than other layouts. It is because 2bhk homes are always in greater demand. These houses are easier to rent, and more tenants are available.
The 2bhk homes enable you to reap higher returns as rent due to their greater demand. You end up with an investment with higher returns by paying a slightly higher EMI value for a 2bhk home than a 1bhk house.
While a 3 bhk layout offers more space flexibility, yet is more expensive. It requires more upkeep charges. On the other hand, 2bhk layout homes are a better choice for singles, couples, and nuclear families who don't need as much space but may be easier to sell in the future.
Provident Ecopolitan is a new launch housing unit in AeroSpace Park, Gummanahalli, Bagalur, North Bangalore. This massive township is a mixed-use type and includes a retail center offering easy access to the dwellers. The township is set over 11.2 acres, comprises four phases, and features the best elite living segment. It offers elite and compact 1, 2, and 3 bhk homes with plush features.
It boasts 60% open spaces, lush greens, and at least one tree for every home. It includes 45+ indigenous flora and fauna species, making it a vibrant habitat. It is a first-nature-themed township that incorporates operational viable features.
This new launch project is in a prime spot and has excellent connectivity. It is in the heart of Hardware Aerospace Park, the famous business district in the city. It is close to other hot spots of the city and the city's newest Airport. It is a part of the most sought-after and thriving areas of the city. It includes all the urban features and the best 24/7 security services.
Provident Ecopolitan 2 BHK Apartment Floor Plan displays the layout of the homes in the building. These living spaces offer plush and spacious units ranging from 927 sq ft to 1052 sq ft. The flats are designed for small families with one or two children but have enough space to accommodate a growing family. Each unit has a living room, a kitchen, a balcony, bathrooms, and two bedrooms.
The project includes various sizes of flats to cater to buyers' diverse needs. The "Comfort" flats range from 927 sq ft, while the "Grand" flats range from 1025 sq ft to 1052 sq ft. The master bedroom in the Grand flats is larger than in the Comfort flats, and there is an additional bedroom as well. The room dimensions vary in different units, allowing buyers to choose the one that best suits their preferences.