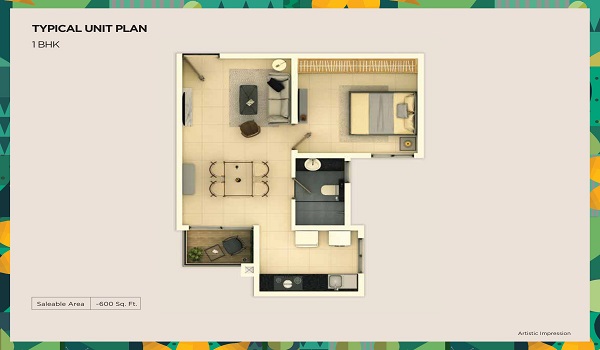 Floor Plan is a graphic presentation that shows the layout of the flats of the Project. It displays all the planned layouts and sizes of the flats along with the carpet and super-built areas. If you're looking for a home, a housing unit, 2bhk, might be ideal for a family of 3 or 4.
However, buying in a prime location can be pricey, so some buyers opt for a cheaper flat in a less central area. You could also choose a 1bhk unit in your best location, which is likely more affordable. Here are some reasons to choose a 1bhk unit that could be a good option:
Affordability: A 1bhk unit is more affordable than a 2bhk unit, making it an ideal choice for first-time buyers on a tight budget. You'll have a lower price range, smaller EMI, and down payment amounts.
Lower additional costs: Smaller unit sizes result in lower upkeep charges, utility charges, and property tax than other layouts.
Good investment option: 1 BHK unit is a good choice if you plan to rent. Students, bachelors, and young couples prefer smaller flats for pocket-friendly rents, easy upkeeping, and low costs. Migrants also prefer 1bhk.
These 1bhk flats are highly sought-after, making it an attractive option to invest in.
The Provident Ecopolitan project has 1, 2, and 3 bhk layout homes on 11.2 acres. It is a plush housing project in North Bangalore. It hosts 9 towers with 1263 unique flats. The 19-floor towers offer 1,2,3 bhk homes. Its carpet size ranges from 625 sq ft to 1427 sq ft, catering to the needs of different buyers. The Project boasts a multitude of leisure, fitness, and safety amenities to ensure the comfort and well-being of the residents.
The Project offers various floor plans that are modern and well-designed, with suitable space management. Buyers can choose from various floor plans tailored to their budget and size requirements. There are three typical tower plans, with 6, 8, and 10 apartments per floor.
Provident Ecopolitan 1 bhk apartment floor plan is perfect for bachelors and young couples. These flats range from 625 sq. ft. to 631 sq. ft. and include a living room, a kitchen, a balcony, a bathroom, and a single bedroom. All rooms are spacious and well-equipped with good finishes.
The 1bhk Floor Plan comprises one foyer, one bedroom, one bathroom, one kitchen with an attached utility, and a balcony. These homes will be ideal for nuclear families. Due to its small carpet area, the upkeeping and maintenance are more manageable and cost-efficient. Its upkeep charges are lower than the 2 and 3bhk homes.
The Project consists of 2 types of 1 bhk homes. The most compact 1 bhk layout has 600 Sqft of carpet area, and the other type has 750 Sqft. These are the details of the available units for sale with their respective carpet area and price:
Unit Type: 1 BHK
Carpet Area: 600 square feet
Price: Approximately Rs. 33 lakhs
Unit Type: 1 BHK
Carpet Area: 750 square feet
Price: Approximately Rs. 35 lakhs
Some of the credits in investing in Provident Ecopolitan 1bhk Apartment Floor Plan are its Brand Value. Primarily, Provident White Oaks is one of the best real estate builders in South India. These compact living spaces are more affordable and have fewer upkeep charges. Its overall cost will be lower than other layouts. It is an ideal choice for investors as it is readily saleable. It is a cheaper choice and easy rentable and assures better rent yields.
Research the stature and track record of the Builder. Verify the status of approvals and permits for the project.
Be aware of the risks linked with delays or changes in plans.
Consult a real estate expert or legal advisor.
Understand the terms of the prelaunch offer and the legal drifts.
Overall, Provident Ecopolitan offers a variety of floor plans and amenities, catering to the needs of different buyers with different budgets and preferences.